Roll over image to zoom in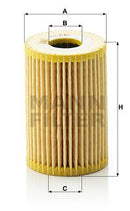 Description
Mercedes-Benz Part Number:
 1661800009
Other Part Numbers:
1661800109, 1661800209, 1661800710, 1661840525, 1661840625
Mann-Filter Part Number:
HU610X
Brand:
 MANN FILTER Made in Spain
Quality:
OEM

Warranty:

 
24 months

Internet:
 https://www.mann-filter.com/en/mann-filter/start/#


Criteria
Filter type Filter Insert
Height 78 mm
Inner Diameter 22 mm
Outer diameter 52 mm
Inner Diameter 1 22 mm
How To Tell It Needs Replacement
An essential part of any oil change is the engine oil filter. Generally oil filters come in two styles, a cartridge style that looks like a bare filter, and a spin on variety. Spin on oil filters carry several features inside, such as the bypass valve and anti-drain back valve. On engines that use cartridge style filters, these components are often found inside the engine, commonly in the oil filter housing. It is important to use a quality oil filter as it is working to keep contaminants such as carbon out of your engine, and it should be swapped at every oil change. 
For the following vehicles
Vehicle kW HP cc Design
A-CLASS (W168) A 140 (168.031, 168.131)
More information
01.2001-08.2004 60 82 1598 Hatchback
A-CLASS (W168) A 140 (168.031, 168.131)
More information
07.1997-08.2004 60 82 1397 Hatchback
A-CLASS (W168) A 160 (168.033, 168.133)
More information
07.1997-08.2004 75 102 1598 Hatchback
A-CLASS (W168) A 190 (168.032, 168.132)
More information
03.1999-08.2004 92 125 1898 Hatchback
About The Manufacturer
Mann+Hummel is an OEM manufacturer to many brands of vehicle including Mercedes-Benz, BMW, Audi and Porsche. The Mann+Hummel Group is a German manufacturing group headquartered in Ludwigsburg within the metropolitan area of Stuttgart. The company develops, produces and distributes liquid and air filter systems, intake systems and thermal management components. Additional products include powertrain and engine plastic components, such as manifolds, ducts and cylinder head covers with integrated functions for the automotive industry, and aftermarket filter elements for the maintenance and repair of motor vehicles under several brands (Mann-Filter, Wix Filters, Filtron, Purolator). For general engineering, process engineering and industrial manufacturing sectors the product range includes industrial filters, membrane filters and equipment for water filtration. About 90 percent of annual sales of around 4 billion euros accounted for by the activity in the automotive industry. The company and its subsidiaries have more than 80 locations worldwide. The group is owned by the families of the two founders.
Payment & Security
Your payment information is processed securely. We do not store credit card details nor have access to your credit card information.